ELO on Don Kirshner's Rock Concert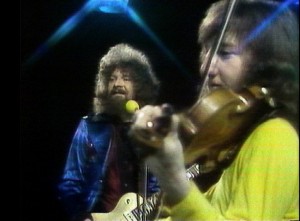 One of the biggest bands of the seventies, Electric Light Orchestra appeared on Don Kirshner's Rock Concert three times during the show's illustrious run. Their first appearance was in 1974, while the band was still in its early stages, with lead singer/ guitarist/songwriter/producer Jeff Lynne refining the sound and approach of ELO. Through their melding of rock styles with a live string section, the band's sound gravitated less toward pop radio and more toward progressive rock.
In their first appearance, the British band was filmed performing three songs on a soundstage with no audience. The songs came from their then-current LP On The Third Day: "New World Rising," "Dreaming of 4000," and their new single "Ma-Ma-Ma-Belle," which remains a fan favorite.
By the time ELO reappeared on Rock Concert in 1978, they were firmly established as one of the biggest bands in the world thanks in part to their unique live performances. This fact was not lost on Don Kirshner in his on-screen introduction: "ELO now resides at the pinnacle of rock stardom, still growing, still musically innovative, and still one of a kind."
The show then aired four performance videos from the band's latest album Out Of The Blue: "Sweet Talkin' Woman," "Turn To Stone," "Wild West Hero," and the immortal "Mr. Blue Sky." This was the year of ELO's biggest-ever concert tour, where the band performed underneath a giant spaceship, similar in design to the ship seen on Out Of The Blue's album cover.
ELO returned to Rock Concert the following year, and Don once again sang the band praises saying, "The Electric Light Orchestra's big hit 'Don't Bring Me Down' will keep you up, and it looks like it could go all the way. Their album Discovery is now in the top ten. In a category all their own, ELO continues to blaze trails, rather than copy yesterday's heroes." "Don't Bring Me Down" was followed on the show by the video for "Last Train To London," which would be a top 40 hit for them later in 1979.
Jeff Lynne had chosen to not have the band tour at all in support of Discovery. Perhaps to make up for the lack of touring, all 9 songs from Discovery had performance videos made for them. These videos were the last time the band was to perform with a 3-man string section, as the group's violinist and 2 cellists were let go soon afterwards. Even though violinist Mik Kaminski would return to the band in time for their next concert tour in support of 1981's classic Time album, ELO's days of being known as "the English guys with the big fiddles" were in the past.
Don Kirshner's Rock Concert truly traces ELO's evolution from up-and-coming progressive rock artists to the height of their mainstream rock/pop success, and to this day, ELO remains an iconic band.